Behavioural problems with a 10-month old vizsla/labrador cross puppy -female (Overijse / Brabant Flamand)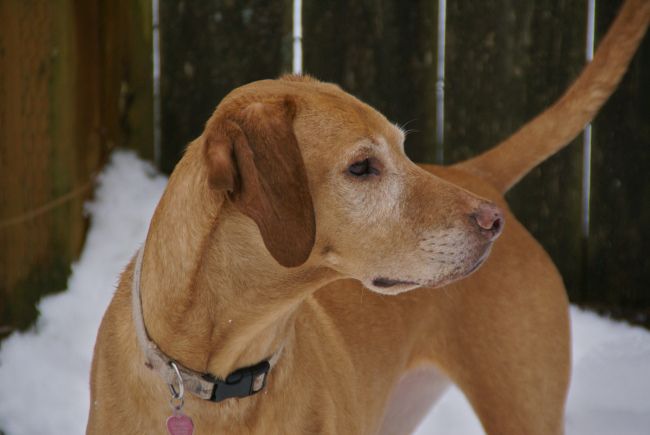 Hi Chandra - we'd like some help to correct a couple of behavioural problems with our 10-month old vizsla/labrador cross puppy:
 1) Pulling on the leash
 We have tried various techniques (positive reinforcement/treats, corrections, stopping, changing direction) and collar/leash combos (front/rear fastening harness, nose halti, slip leash), including with another trainer, but we seem to be at the end of our tether (literally). She just wants to get everywhere, fast! It's definitely us (me especially) that needs some more training, as she walks fine with the trainer. But I don't have the strength (or the will) to snap her back into line.
 2)  Reliable recall
 She's definitely on the vizsla end of energy burning needs and needs at least an hour running off the leash everyday. Luckily we have a field nearby where she can chase a ball to her heart's content. She has a pretty good sit, stay and recall, but obviously doesn't walk to heel well, and we can't yet trust her 100% to come back every time, to give her more freedom in other contexts. So she's either walking (pulling) on a short leash- which we are doing less and less, or charging around at 100 miles an hour.
 3) Being calm at home
 Jax is always on the go, often even after a long run. She will eventually settle and sleep on the couch, or a chair sometimes. But her default is always to be chewing, playing, being around us (or the cat - see below). Maybe this is just normal puppy behaviour, but it would also just be nice to chill out at home with her in the evenings.
 4) Interaction with the cat
 We have a 6 year old male (neutered) cat in the house, who Jax would just love to play with. Tat is less keen, so we were also really interested in your offer to help us give him some more space. Jax will sit, stay and/or go to her crate when instructed, but we have to repeat this command multiple times every time they're together.
 5) Consistent approach
 Finally, we also need to find an approach that works for both my (rugby-player) husband and myself. As you can imagine, he can be bad cop when needed, I'm probably guilty of wanting to be too much of a good cop.
 Apart from these few issues Jax is a total bundle of joy and energy, very bright and very trainable. We have already been through some basic puppy obedience classes (group and individual) with another trainer, but we need a fresh approach. I have some reservations about the prong/e-collar approach, but am open to discussing them. I would also be interested in some more mental games to tap into her other talents.
 If you think you could help us, we (and Jax) would be delighted to hear from you.
 Delyth and Dave